Top 5 Stores to Gear Up for St. Patrick's Day
We have a great news for you! A day like no other to save big on products from your favorite stores, wondering what day that is? It's the 17th of March, St Patrick's day. For those not familiar with this day, let us give you some background info. St. Patrick's day is celebrated in honor of the first patron saint in Ireland who died on the 17th of March. He was a great man who brought Christianity to Ireland, converting thousands of people. Today St. Patrick's day is not only celebrated by the Irish, the whole world joins in the celebration by wearing green which connotes spring and Irish culture. Now to the exciting part of Patrick's day, different stores offer extraordinary deals on their merchandise to celebrate this inspiring day. Do not put yourself through a headache and stress of browsing hundreds of stores for deals and offers, we at DiscountReactor are here to ease your stress. We have been able to gather jaw-dropping offers from different stores for you, here are a list of some stores with splendid St. Patrick's day deals worth checking out.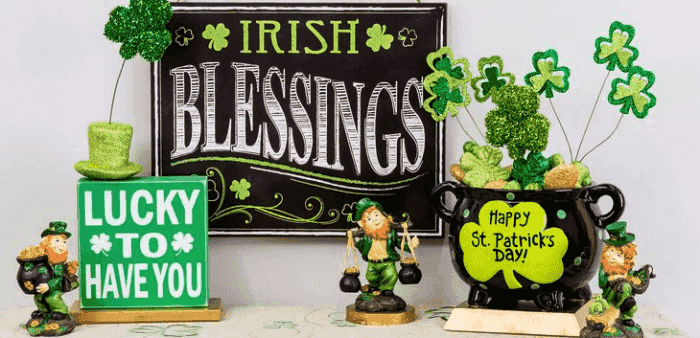 Art is as natural as sunshine and as essential as food, Hobby Lobby is the perfect destination for every artsy person. The store though a principal retailer of arts & crafts supplies, carries a superb selection of other products including home decor, fabrics, baking supplies, jewelry making kits and many more inspiring items for the creative mind. On 17th of March the store is offering a huge 30% discount on select categories. Isn't that amazing? Now you can spend quality time with your little ones by crafting. Do not miss this deal, the offer is valid through 18th of March. Cheers to St. Patrick's day!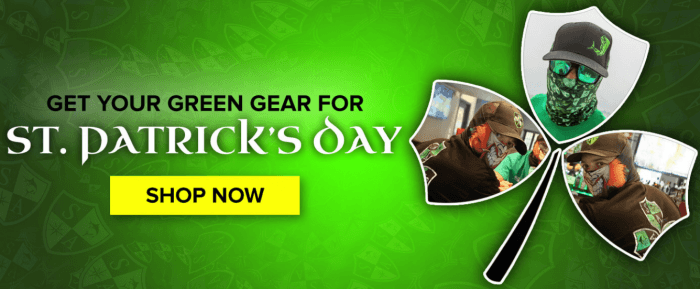 The world is such a beautiful adventure that has to be experienced by all of us. Outdoor sports gives us a chance to enjoy the freedom and peace that nature brings. As fun as outdoor activities are, the weather can dissipate our excitement, that's why SA Co. was created, to provide essential outdoor gears for outdoor lovers. The store offers quality apparel & hats for a splendid outdoor experience. Save big on Patrick's day on all your outdoor needs by checking out unbelievable deals & offers provided by the store. Get 5 FREE face shields when you buy ONLY 1, buy quality T-SHIRTS starting from $14.99 only and HATS for just $19.99. Your guilt-free shopping is only a click away. Happy St. Patrick's day world!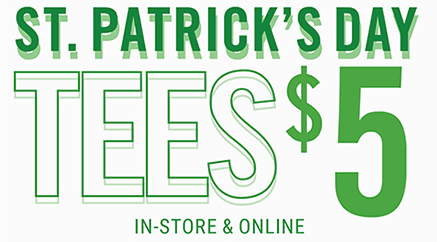 Life without music would be absolutely unimaginable, agreed? Hot Topic is the best source for everything music, providing customers with a wide variety of items including music inspired clothing, jewelry, home products, movies, comic books and other pop culture products. Looking for fashionable apparel that has your favorite band's icon on them? Hot Topic is the most reliable store to get brand-related items, whether the sexy squad of 5 Seconds of Summer or the legendary Back Street Boys, Hot Topic has items from your treasured bands and musicians. Hot Topic is offering exceptional deals on different items to celebrate Patrick's day. Shop T-shirts for $5 ONLY! Enjoy over 25% off various other items, shopping has never been more rewarding. This is definitely going to be a memorable Patrick's day.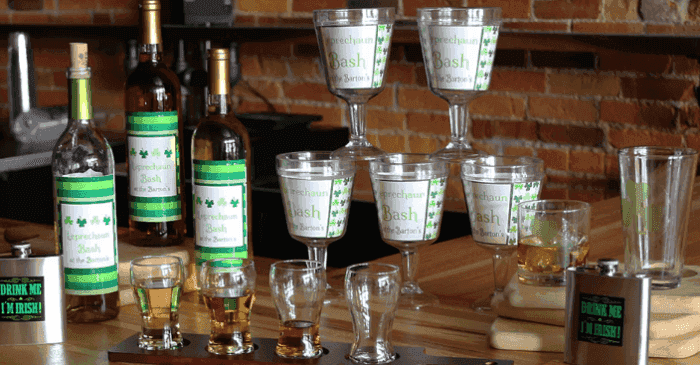 We get only one chance at life, so why not enjoy it to the fullest? Shindigz is the number one store for all party supplies. Celebrate every special occasion including birthdays, wedding, baby shower, family reunions, bachelorette party and other events with Shindigz. Get ideas and items needed to make your party the talk of the town. Planning a Patrick's day themed party for your family & friends? Shindigz has got you covered, with amazing discounts on decorations, tableware, fun wearables, banners, party favors and so on. Get shamrock, leprechaun and green decorations to capture the real essence of Irish culture on St Patrick's day. Don't forget to use St. Patricks Day coupon for $40 discount on all your party needs. A little party never hurt nobody. 
We know how exhausting it is to browse different stores for our daily needs. A solution has been found! Yes, you heard right. Shopko is a one stop shop that has everything you need, from clothes to jewelry, furniture to kitchen, baby items to toys, Shopko brings you quality items from your favorite brands at amazing prices. For a remarkable shopping on Patrick's day, Shopko is offering a huge 70% off St Patrick's decor and accessories!! Celebrate the Irish culture in style by saving on clothing, decorations, drinkware, kitchen linens and other items. Take advantage of this special day, save as much coins as you can on your purchases. This is a once in a year offer, do not miss out!
Though St Patrick's day is a holiday for the Irish, it is a guilt free shopping day for others, you get to experience the satisfaction of buying things without harming your savings. Check out these list of stores to enjoy a memorable St. Patrick's day. Happy St Patrick's day, may your troubles be less and your blessings be more.