Exclusive footwear from Stadium Goods at Farfetch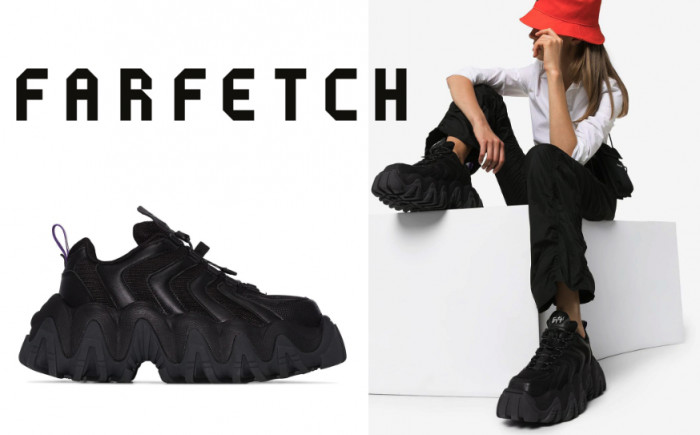 What happens when fastly evolving consignment store Stadium Goods and a worldwide luxury fashion marketplace Farfetch decide to work together and create ideas in a natural cohesion It is where the new shopping experience comes. Farfetch decided to acquire the streetwear brand with the
view to add diversity to the shoe assortment and invest in growing e-commerce with thousands of individuals who offer the most limited and premium shoes.
Thanks to Stadium Goods, now you can find everything from exclusive Jordans and creative Yeezys to super-hype Nike & Off-White collaboration pairs and sport-looking Nike Air Max jogging shoes converted into a daily go-to's. Be attentive and quick with the choice as some hot sizes never stand too long on the shelves.
Stadium Goods, with a wide range of hypebeast' shoe favs, is here to resolve the issue of not finding the right size or model. Due to an exceptional marketplace, the store makes possible to get the rarest picks and historically valuable pieces from respectable brands. The company's focus is on looking deeper into sneakers industry finding the key products and getting the industry highly enriched with quality and meaning. Farfetch and Stadium Goods are ready to draw out this year trends for footwear and eager to help you pick out your next perfect shoes.
Without further ado, the chart of the most pop-up kicks of the season should be opened up by the legendary and undisputed collection of Jordans. Nike must be really proud of representing the product with such heritage and success on the market. Jordan shoes came a long way from regular sports footwear to a limited collection of goods that are usually sold out within minutes straight after the release of a new pair. At Stadium Goods, people take care of you getting the latest ready-to-wear stock for you to order your favorite pairs at most competitive price tags.
Kanye West's iconic sneakers, presented in the collection called "Yeezy", have been booming for a long time and still didn't lose their popularity owing to the artist's creative self and seemingly endless ability to generate newness to the industry. Stadium Goods loves Yeezys made by both Nike and Adidas. On the one hand, if you prefer Adidas Yeezy, you can either choose the easiness and performance of low-side sneakers buying classic models of 350, 500, 700 or quit caring about weather conditions wearing top-side Yeezy boots. Nike collection of Yeezys, on the other hand, shows where exactly the luxury of the brand lies with its authentic styles and remarkable silhouettes.
Apart from Yeezys, Adidas pairs are widely showcased at Farfetch. To look like a man from another planet you will need some burning pair of kicks, so we highly recommend that you check out high-end Nike Air Max models, NMD boost by Pharrell Williams, outstanding Raf Simons that will add individuality to your look.
Want more of Farfetch sneakers from Stadium Goods to enjoy core innovations and quality of your footwear, then opt for Converse Chuck Hi-tops, Kobe premium kicks or edgy Louis Vuitton sneakersproduced alongside none other than Kanye.
Classic Air Forces are winding up this compilation of the trendiest pairs of street style footwear with its exceptional time-tested comfort of wear and front-line appearance loved by large masses of sneakerheads.
Visit Farfetch to get the best shopping experience sponsored by Stadium Goods' curated collections of streetwear that turned into something more than footwear. Discover the history behind the kicks and learn more about your personal style to appear every day in the spotlight.