Fall Fashion Trends 2017 for Plus Size Women
Get yourself prepared for the colder months ahead by checking out the latest trends in fall fashion. Many may think that hotter months are perfect for showing off one's knack for fashion, but harmed with the essential wardrobe staples women can look stylish all year round regardless of the weather. Getting stores that cater to plus size women's fashion needs can prove rather difficult, therefore we have gathered a list of stores where all the beautiful curvy women can get trendy pieces to inspire their fall fashion styles. Beauty comes in various sizes and shapes. Remember it's not about what size you wear, it's about how you wear the size.
For cozy yet stylish knit tops perfect for transitioning from summer to fall, Torrid has got you covered. Refresh your wardrobes with plus size knit tops perfect for any occasion. From beautiful off the shoulder tops that show off your flawless skin to cozy plus size hoodies for increased warmth during the colder days, the style options are limitless. The clothing collection includes plus size babydoll tees, lace tops, floral print sweaters, peplum tops, unique tunics, ruffled tops, cold shoulder tops, and more. Try out a plus size lace top for a superb date night look or be audacious in your confidence with a plus size crop top paired with skinny jeans. Find the perfect plus size fall style at Torrid now!
What is fall without a comfy sweater? Get plus size classy sweaters and hoodies for everyday and special occasions. From basic sweater colors perfect for everyday to beautiful prints that add a burst of vibrancy to your outfit, Torrid's collection of plus size sweaters are a necessity for your fall wardrobe essentials. For a casual outing layer a comfy hoodie over a plus size tee or tank. For a perfect night out look pair an embellished sweater with cute plus size jeans. Winter is coming!
Get adventurous with Torrid's collection of Outlander plus size coats and capes perfect to keep you warm throughout the frigid months. Travel through time in 18th-century coat styles. The Outlander collection includes unique pieces like tartan skirts and capes, stylish knit tops, figure-flattering sweater dresses, tees with cool prints, accessories and so much more. The plus size fall fashion trends is sure to make a statement in the fashion world.
For women who are not afraid to show off their curves, fall dresses are a must-have. Life is too short to wear boring dresses, spice up your wardrobe with trendy pieces for plus size women from ribbed horizontal striped dresses to elongate your body to midi figure friendly pieces that can be dressed up for a night out with friends or dressed down during the day. Plus size women have an endless range of styles to choose from, lace dresses, cold shoulder, floral, plaid, Jean dresses and more. Step out in a color block sheath dress with some boots or sandals for that work dinner coming up or a patterned dress that draws attention away from your midriff. Ashley Stewart has the perfect dress for any plus size woman. Refresh your wardrobe today!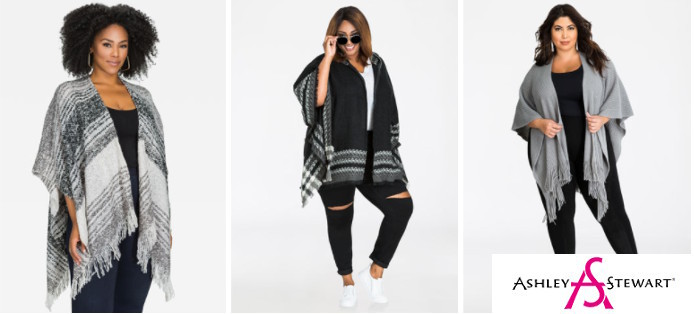 A Fall look without boots is incomplete, dress up your favorite fall dress with stylish over the knee boots perfect for casual walking and lounging around. Ashley Stewart has a collection of fall boots styles ranging from open toe, lace-ups, faux suede and leather boots. The best part of the collection is the availability of wide width boots with extra stretch for plus size woman. Step out in style in the ideal boot for Fall.
Fall Lookbook for Fashionistas
With a new season comes a need for the wardrobe update. For the best trendy pieces for Fall, Addition Elle is one of your best bets. The store has a lot of style options for plus size women. Make a style statement with your clothes, pair a beautiful floral dress with a retro-chic moto jacket, complete the look with lace-up ankle boots. From fringed plaid shirts to all the distressed boyfriend jeans you could ever need, plus size fall trends are becoming the next big thing in the fashion world. Your curves are perfect, do not let anyone tell you otherwise.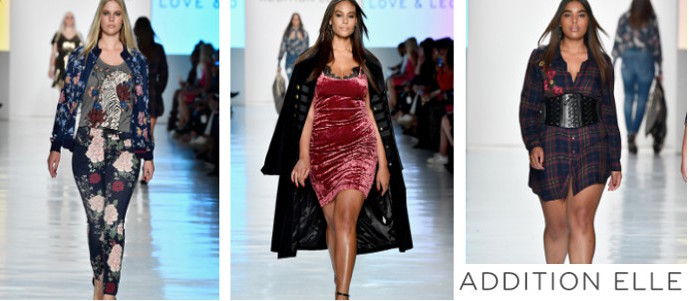 Fashion week is far gone but left in its wake are various collections of plus size fashion trends for women. Dress to show the world that everyday is a fashion show, make fashion statements just because you can. Shop the new collection of fashion staples from your favorite plus size models including Ashley Graham, Jordyn Woods and more. From matching sets of lingerie for a sexy look to trendy satin pants and Kimono, Addition Elle has got all your fashion needs covered. Shop the NYFW collection for unique and stylish pieces.
There is nothing sexier than a woman's confidence and security in herself regardless of how her body looks. Rebel Wilson the super talented actress recognized a need for more clothing options for plus size women. Being a beautiful curvy woman herself she created a fashion line which carries various contemporary style options for plus size women. Shop the Rebel Wilson collection for vibrant and bold pieces for the everyday outing or statement pieces for a night out. The collection carries a wide range of Fall wardrobe staples including comfortable but stylish shirts, badass moto jackets, cute skinny jeans, leather skirts, printed dresses and everything you need to put together a perfect fall look. Look as good as you feel.
Fall 2017 Jackets, Blazers & Bombers
What is a Fall Look without the right outerwear? If you have been looking for an excuse to go shopping, a change in weather is a perfect one. Shop the latest trends in fall outerwear including edgy satin jackets, reversible bomber, beautifully printed kimono, long sweaters, floral toppers, chic denim jackets and more from Melissa McCarthy. Pair your favorite bodycon dress with a nice bomber jacket, add a pair of knee-high boots for a girls night out. Melissa Mcarthy has an endless option of styles to choose from.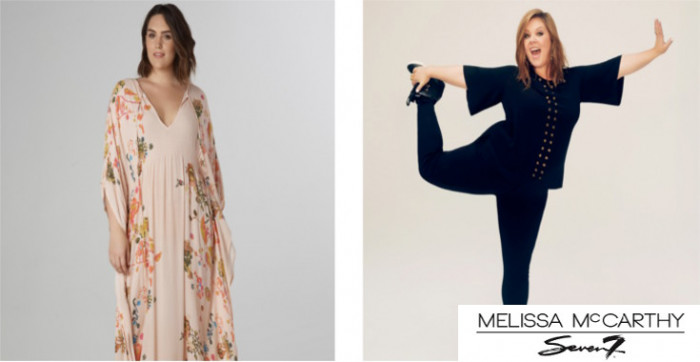 Pencil Skirts for Gorgeous Curves
Pencil skirts are a must-have for every curvy girl. With its slim-fitting effect, pencil skirts streamline the body, therefore enhancing women's beautiful curves. Pencil skirts are not meant for hotter months only, they are trendy for colder months also. Pair a burgundy leather enchiladas skirt with a chambray button down shirt and mules for a stylish workwear or a long body-hugging pencil skirt with a sheer top and black bra for a sexy look suitable for a date night. On very cold days combine a pair of leather thigh high boots to keep your legs warm and a cozy sweater with a mini pencil skirt. Pencil skirts are a curvy girl's best friend.
Avenue offers plus size women the latest trends in 2017 Fall fashion. No longer do curvy ladies have to hide their figures in ill-fitting clothes, with sizes running from 14-32 the brand has proven how much they care about the plus size community of women. Shop the 2017 Fall styles including velvet tops, bell sleeved tops, special trouser pants with tummy control, figure flattering fit and flare dresses, embroidered skinny jeans, cozy ponchos and more. Find your perfect style in the Avenue 2017 Fall collection for plus size women.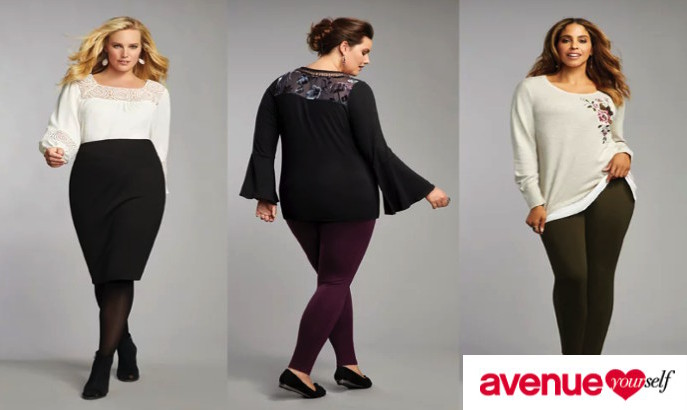 The Ponte Knit Collection from Avenue is stylish pieces made from fabrics perfect for fall. The Ponte knit styles include cute dresses, jackets, classic blazers, form-fitting pencil skirts, striped leggings, jeggings and jeans. Looking for the perfect Fall look for work? Try out a Ponte speckled pencil skirt, add a white camisole and a Ponte speckled blazer, complete the look with some tights and a pair of ankle boots, you're good to go. The Ponte knit collection is not only stylish, they also keep you warm on cooler days.
The season for all stylish girls to showcase their fashion flair is here, the question is are you ready for Fall or is your wardrobe ready? A bona fide reason to splurge on some wardrobe essentials is here, refresh your closet with Fall necessities from Kiyonna. Shop plus size tops, skirts, jackets, cardigans, jeans, kimonos, tunics, leggings and more for a complete Fall wardrobe. Show off your sophisticated style this Fall when you shop 2017 Fall new arrivals from Kiyonna. Self-confidence is the most attractive quality a woman can possess. What we wear can play a role in building our confidence.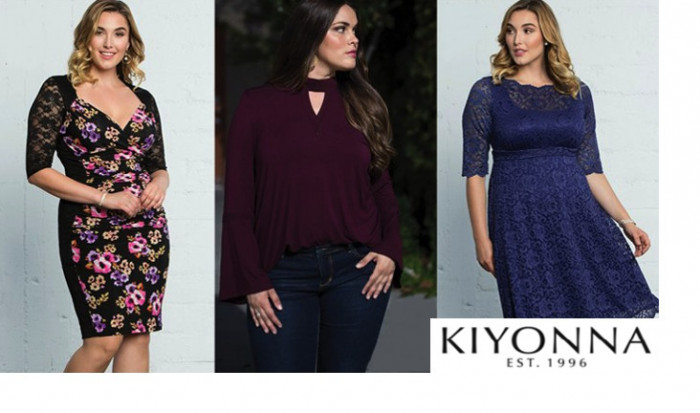 Florals have always been identified with spring or summer, but 2017 fall fashion trend includes a lot of beautiful floral prints making the cold a bit more tolerable and less gloomy. Shop this season's sizzling floral fashion trends from Kiyonna. From beautiful floral wrap dresses to floral tops, plus size women can get stylish pieces that makes them feel as beautiful as they look. Brighten up your Fall wardrobe today with a floral number from Kiyonna.
For a well put together fall look or essential wardrobe staples for the chiller months, Eloquii is your best bet. Stylish plus size women are sure to get unique pieces to make a fashion statement this season. Shop cozy sweaters that you can dress up for special occasions or dress down for casual outing. Get dresses, skirts, blazer, pants, jeans and unique boots for your closet.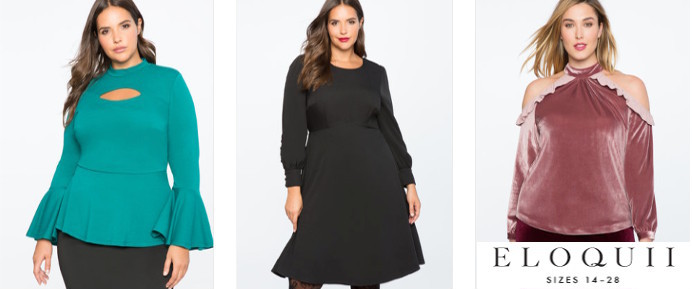 2017 Fall colors veer toward warm palette including red, autumn maple, navy, neutral gray, marina, golden lime, ivy, animal prints, florals and more. Eloquii has various options of trendy Fall colors suitable for any skin tone, keep up with the latest Fall color trends by checking out fun and comfortable Fall styles from Eloquii.
Braving the cold weather can prove rather difficult, but with the perfect style of plus size jackets & coats, you can transition smoothly from summer to fall. Shop the huge collection of plus-sized faux fur coats for extra warmth, biker or bomber jackets for a dash of edginess, ponchos and capes for a sophisticated look. Simply Be has everything you need to withstand the varying weather.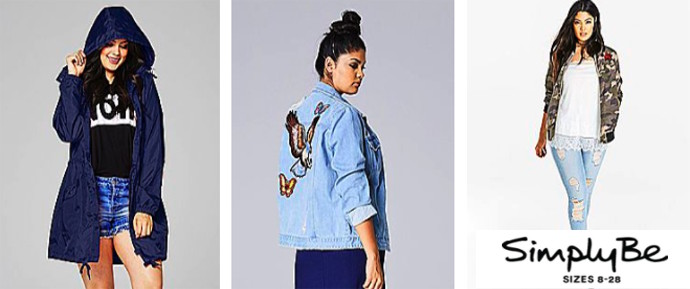 Knitwears are crucial for Fall, perfect for layering they keep the body warm through the cooler months. Every woman needs a few styles of knitwear in their closet, choose from lace, crochet or ruffled tops - awesome for everyday wear or a sweater dress or kimono that works best for warmth during the frigid months. Simply Be has an extensive style of Fall knitwear options for plus size women.
Stay fabulous and stylish all year round with the online stores we've described above. And don't forget to use DiscountReactor bargain deals and coupon codes to make your shopping experience unforgettable!