Where to buy luggage for travel?
Luggage is an essential part of any travel. In fact, it can break or make the whole trip. With that in mind, it is of an utmost importance to get the baggage most suited for your planned journey. The right choice of luggage can not only prevent unnecessary dram but also set the right mood for relaxing trip. Much emphasis is placed on the importance of a comfortable luggage and rightfully so. The luggage houses all the trip essentials. Clothing, shoes, toiletries and sometimes even important documents which are the basis for a successful trip. With as much option as there is in the market today, choosing the perfect suitcase can become quite a confusing task. Starting from the type of material of the luggage: there are hard-shell suitcases, leather travel bags, travel duffel bags and so on. Going next to the features such as those travel luggage that comes with wheels and those that have no wheels at all. Then comes the size issue. The size of travel baggage has always been very important, more so now when almost all U.S. airlines set carry-on restrictions limiting carry-on luggage to 22 inches in height and 45 linear inches at all. Linear inches combine the luggage length + the luggage width + the luggage height, for example 21" + 14" + 10" = 45 linear. Whether it's a weekend getaway, business trip or several months long vacation, here are the pros and cons of some of the most coveted travel luggage out there. We have even gone the extra mile of compiling a list that includes where they can be purchased online.
DVF Saluti 24" Hardside Spinner
This luggage is styled in a hard-core shell. The outside is made of ABS construction with spinner wheels that rotate 360 with a white body and black finishing. The inner compartment features a mesh zip wall chamber and garment straps which can be adjusted as needed.
Pros: stylish, spacious and looks spectacular.
Cons: Impractical as it may get dirty easily and it is not scratch resistant.
Where to buy:Nordstrom Rack
Samsonite Omni PC Hardside Spinner 24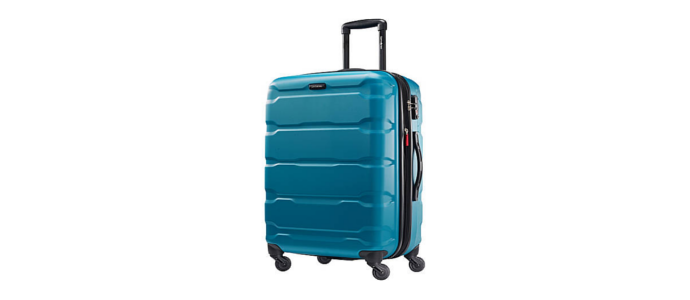 This Samsonite suitcase incorporates 100% Polycarbonate with scratch resistance technology and lightweight spinner wheels that glide smoothly across the floor. The interior features cross-straps, divider, and full-zip that makes organizing while packing easier.
Pros: Inexpensive, lightweight and popular with travelers.
Cons: Although it claims to be scratch resistant, it may get scratched pretty easily. It can only be used as check-in luggage because it does not meet requirements for carry-ons.
Where to buy:eBags
DAKINE Sherpa 60L Roller Bag
This travel roller is made of a 00D polyester material with wheels that can be replaced and a handle that can be retracted. It also includes straps for easy conversion into a backpack.
Pros: Can be converted into a backpack when necessary.
Cons: Rolls only forward and backward, no 360 rotation.
Where to buy: Steep& Cheep
BRIC'S X-Travel Pilot Case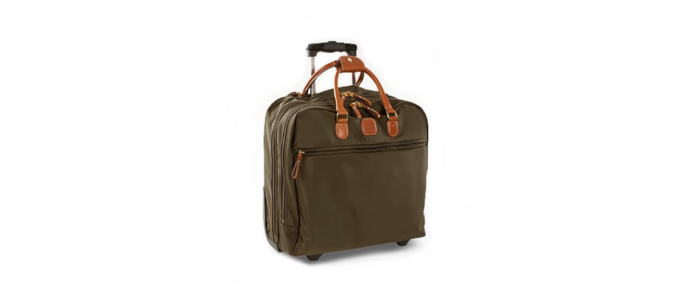 This travel luggage features two handles for carriage, withdrawable trolly handle, two sizeable sections, huge front and internal pocket as well as spinner wheels for effortless transit.
Pros: Great luggage size for carry-on luggage
Cons: Limited capacity, suitable for a small length trip.
Where to buy:Forzieri
Globe-Trotter 21" Cruise Centenary Special Ed Trolley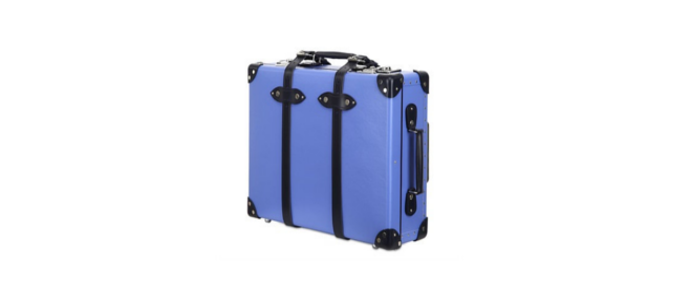 Made of paper on 80% with Vulcanized fiberboard sides and reinforced leather corners. This suitcase also includes a top handle that is made from leather. Inside it has adjustable straps and is lined with ecru-colored cotton.
Pros: Elegant and originally looking with dual function; can be used as a carry-on as well as checked in with other luggage.
Cons: Pricey and not too spacious.
Where to buy:Luisaviaroma.com
Eagle Creek EC Adventure Upright 22 Luggage Black
Multi-compartment carry-on bag with pull-out handle, top and sides carry handles and wheels.
Pros: May be expanded to accommodate souvenirs.
Cons: Not as protective as hard-shell luggage.
Where to buy: Sunny Sports
Kathy Van Zeeland Summer Paisley Wheeled Duffel Bag
This paisley-print travel duffel bag features croc-etch accent and double handles, a hidden adjustable handgrip and inline wheels.
Pros: Portable, easy to squeeze into any space and featherweight.
Cons: Can be easily damaged. Limited space.
Where to buy:Stein Mart
Anne Klein Palm Springs 3 Piece Hardside Spinner Luggage Set
Features a four wheel spinner system. The set is crafted with a multi-stop push-button trolley handle and top and side carry handles to provide a strong hold for the buttress.
Pros: Different sizes for different occasions or for all family travel.
Cons: Not scratch resistant. Prone to breakage.
Where to buy: Luggageguy.com
Getting the proper luggage to travel with can be daunting. We hope this article will give you more insight into some of the popular choices available and the advantages and disadvantages associated with them. Have a good trip!