Top Stores to Buy iPhone 14 with Savings
The Apple corporation has already announced the new iPhone 14. So, it's time to hunt new device and grab huge discounts. You have explored tech specs and find the best model for you, I guess. Here's a brief overview for those of you who couldn't do this.
There are iPhone 14, iPhone 14 Plus, iPhone 14 Pro, and iPhone 14 Pro Max. Main characteristics are similar with previous model, but Apple moves forward and continue to innovate devices. A15 Bionic chip for iPhone 14 and new A16 Bionic chip for iPhone 14 Pro, longer battery life, dynamic island with convenient features larger sensor size, different colors, improved camera and video recording compared with previous devices. 
We prepared a list of shops where you can save money and purchase new iPhone 14 for the sweeter price.
1. Walmart. Grab up to $1,000 on your purchase with trade-in option. Plus, get up to an extra $100 (valid for purchase with installment plan and only at Walmart). Find out and save more with Walmart promo code.
2. Target. Here you can save up to $1,000 with eligible trade-in. Also, get free shipping and choose accessories with up to 30% discount. RedCard holders receive additional bonuses. Explore Target promo code to grab more savings.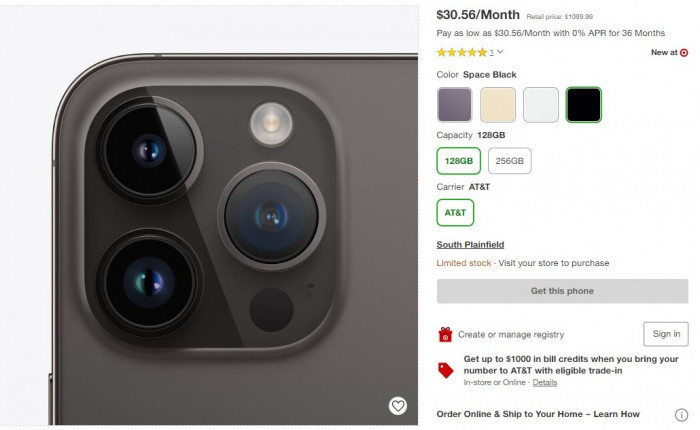 Source: target.com
3. BestBuy. As other brands, the brand gives an opportunity to save up to $1,000 on purchase of iPhone 14 Pro or iPhone 14 pro Max when trade-in iPhone 12 or newer. Get up to $800 off when you buy iPhone 14 or iPhone 14 Plus. Use BestBuy promo code to take mode benefits.
4. Verizon gives up to $800 credit after trade-in. Plus, up to $120 off with an eligible SmartWatch. Also, you can receive a $200 gift card when you switch a line. For any reason, try Verizon promo code to save as much as it's possible.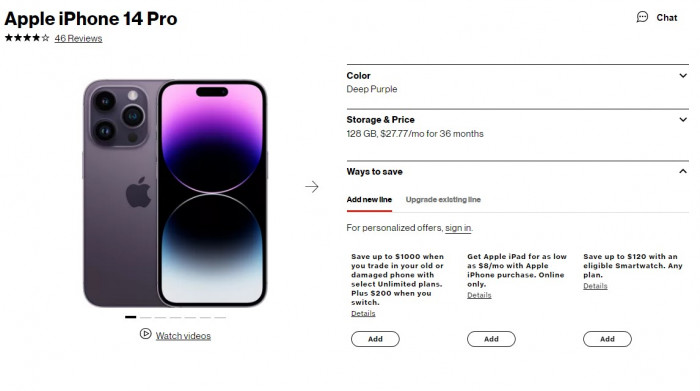 Source: Verizon.com
5. Amazon. Use free shipping with each iPhone purchase. Benefit from 5% off chargers. Amazon promo code is a great chance to save more.
6. eBay. Save on delivery when you buy select devices at the site and up to 25% on accessories for your new smartphone. Find more opportunities with eBay promo code.
7. T-Mobile. Get up to $1,000 when you switch family to Magenta Max Plan. BOGO up to $700 iPhone 14 Pro. Want to save more? Find T-Mobile promo code.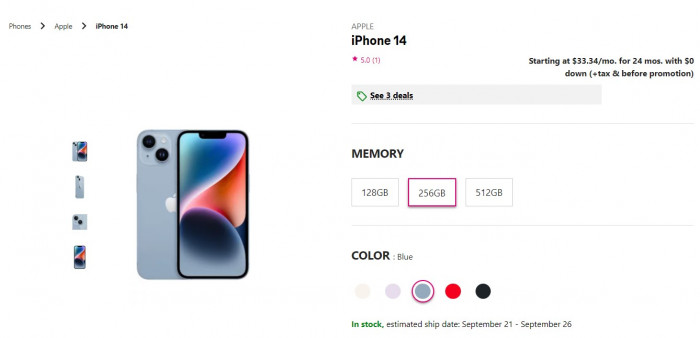 Source: t-mobile.com
Apple gives an opportunity to save money on new device purchase as usual. Safely use it! Moreover, each brand tries to offer something attractive to its customers. Explore this list to find the most profitable shop, combine it with DiscountReactor promo codes and deals to save more. Our team wishes you great shopping!