Maternity Jeans Line from Khloe Kardashian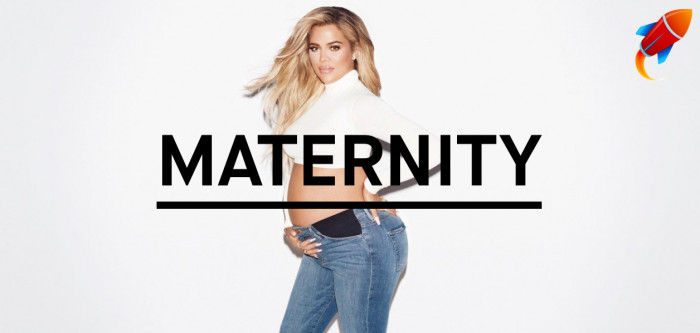 Good Mama is, arguably, one of the most anticipated fashion collection of all time, no small thanks to the Good American brand co-owner, Khloe Kardashian. Good Mama was an idea that has been long in incubation and after it was launched in March 2018, the whole world, maybe just the pregnant ones, went wild. In plain English, Good Mama is every soon-to-be-pregnant, just pregnant, half-way-pregnant, and almost-delivery-pregnant in the United States and beyond. As an offshoot of the Good American brand, this new maternity jeans line maintains all the qualities, sexiness, and sophistication that we've come to love about the parent label.
For so long, style and pregnancy are two words you would hardly find in the same context. Furthermore, many have tried the whole pregnancy-jeans thingy; well received at first but over time, a lot of ladies returned to the big, saggy, and unattractive maternity wears. This less fascinating over-sized maternity dresses became accepted, not because such apparels look good or make you look younger, but rather due to the comfortability that comes with such clothing.
On the other hand, Good Mama jeans are super-comfortable, smart-looking, sexy, and stylish, something we couldn't say about the previous nursing or maternity wears, even all the pregnancy jeans before this "Good American offspring". With Good Mama comes a contemporary approach, appreciating every curve and thickness as the size options range from 00 to 24. So, no worries, you find your perfect size.
One thing that's very common in the Denim business is exuberant prices. Good Mama, on the contrary, is very affordable with prices ranging from $150 - $180, which is pretty much low for the quality it offers. In other words, every Good Mama's jean cost is a sight to behold.

Some so-called maternity denim got less and less pleasant as the baby bump got bigger. This progressive unpleasantness has led to a disparity in acceptance of maternity jeans among different age and parity groups, with such materials being popular among ladies with their first pregnancy only, with about 95% dropping such clothing afterward. However, Good Mama is designed to be super-comfortable and to adapt to your shape. Based on fitting, there are basically two types:
Honey Moon with Elastic Panels: with two elastic inserts on the side, for early and mid-stages of pregnancy. The panels leave no marks behind on your skin.
Home-Stretch: has a huge elastic waistband all around your tummy, covering your baby bump and giving a fantastic looking shape.
The best part about Good Mama's denim is that it still fits even after pregnancy. Are you thinking what we are thinking? Just go do that thing, girl.
Partially independent of the fitting type, there are 3 different styles of Good Mama jeans
Full Panel: It's the style for the Home-Stretch, with the ultra-mushy and soft cocoon for the belly.
Side Panel: Comes with the Honey-Moon fit, the Mid-Rise. The panels are 10 inches up alongside the waistband, and the closure sits just below the belly button.
Underbelly: Comes with the Honey-Moon low rise, with a 7-inch waistband rise and the closure is below the bump.
Are discount codes applicable?
To give it to you straight-up, yes, discount codes are applicable. Like every other Good Mama clothing and jeans, every item included in the Good Mama maternity jeans collection can be purchased using coupon codes.
Where can I Find Good Mama discount codes?
This is the easy part thanks to the DiscountReactor team, all deals, offers, and promo codes for Good Mama, have been compiled into a giant list, on the Good American DiscountReactor.com page. So, don't just feast your eyes when you get there, ensure you pick-up one or two vouchers to make your purchase even cheaper. Happy shopping!