Fall/Winter 2019-2020 Accessory Trends at Farfetch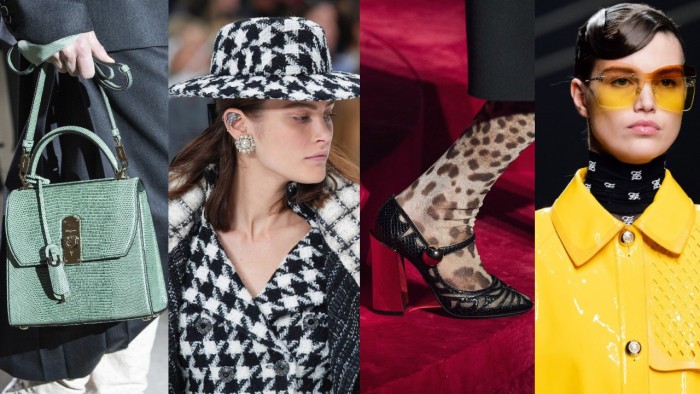 Having dropped by this article, you apparently came wondering about the keys to truly complete 2019 winter looks and probably stopped to think if there was any compulsory need for accessories in winter. They say that when it's cold outside, accessories do fade away and lose their importance. Is it actually true? DiscountReactor team researched ways of proving the timeless relevance of fashion tools and add-ons in our appearances during the coldness for you to keep your trendy spirit high and be in lockstep with time. Farfetch fashion retailer brand, being considered as the realm of modern high-end clothing pieces by popular couture houses, is going to act as a trustworthy source of inspiration.
Winter is creeping up that's why you need to plan ahead your purchases and add some warming winter accessories into your shopping list to stay warm and look good. Fist go-to piece will obviously be a stylish scarf from Acne Studios. Scarves are where winterizing begins. Farfetch has got loads of ready-to-go scarves presented on behalf of the Swedish fashion brand to the keen customer. With different colorways and prints available, this season bestseller is offered in a wide variety ranging from padded, oversized or embroidered kinds to cashmere and mohair ones.
In the top of the coolest cold-weather accessories for 2019 lies Farfetch tote bag with its elegance and practicality of wear that stood the test of time. Major fashion heavyweights presented at Farfetch like Balenciaga, Fendi and YSL acted fast to provide their loyal fashionistas with highly trendy tote bags. Enjoy glowing & sparkling in the dark quality capacious products that will compliment your smart winter look and will never let you down in grabbing all you need to take for a perfect day.
As might be expected from a store of this caliber, Farfetch has got on the shelves a limited collection of winter Gucci bags - iconic accessory pieces that seem appropriate for almost any type of clothing and looks. This is the hands-down best option for people who adore being aware of the newest trends and having their outfits full of novelties. Wearing the item is absolutely mandatory in terms of being key men on any special occasion. If your taste wishes, you can mix it with the Gucci belt to showing up the perfect match and proving your finesse in dressing up the best.
This particular year's exclusive accessory that stands out in the category would be knitted acid balaclavas by Calvin Klein Jeans, Alanui shearling balaclavas or classic black ones by Rick Owens. The item has the potential to turn any set of clothing into a winter-ready look in the blink of an eye.
Another contender to conquer the attention of your wardrobe is stylish beaded turbans that will keep your hairstyle fresh and presentable for the important occasion while protecting from extreme weather and strong winds.
No essential look goes complete without an icy timepiece on your wrist from the constantly updated line of Farfetch watches. Prefer silver crystal watch from Salvatore Ferragamo or golden metallic strap of Medor watch from Hermes. Either way, the accessory will give you a free hand in rescheduling your daily routine and keeping your time in full check.
The right pair of lightweight leather gloves is really tough to find despite being highly marketed product. Farfetch assembled only trusted brands producing gloves for your most sensible orders. Shop gloves by Gala Gloves, Valentino and Prada and keep your hands out of cool. The supply comes in different colors and will in no way break the bank for Farfetch makes sure you are fulfilling your dreams and getting your cart full of favorites.
Keeping track of the fall-winter fashion transition, we summed up this winter most trendy accessories that are really capable of transforming the way you prefer to dress in winter and smartening up your appearance with the help of hypebeast fashion industries and their authentic accessory solutions for various purposes and styles. We just gave a couple of stylish clues to help you find your own manner of getting the role of the freshest fashion killa in the snowy surroundings.